What an amazing day! The show was great, lots of very familiar faces and lots of new people, I got to see a lady who I used to live quite close to but had lost touch with since my move, so that was a bonus! I also got to spend time with Sam Brown, a fellow reborn artist and good friend, who spent the day with me on my stand and was saleswoman extraordinaire, which gave me time to take lots of pictures for people at the photobooth, I will have to post a selection of the photos I took (including some incredible ones of Ceinwen's fairies) in another post because I have too much here just talking about the show!!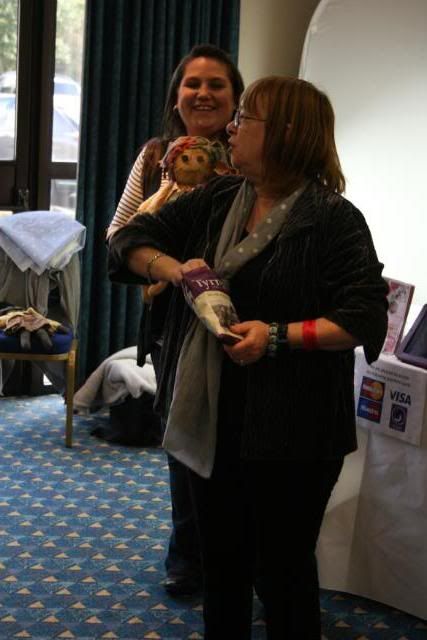 Sam and Ceinwen
I was really fortunate in that I had three babies adopted on the day, which really pleased me, Finn and Georgia both found new homes so I was really happy with that as well as Christine picking up her custom baby Kimberley Beth.
Christine Collecting Kimberley Beth


Sue collecting Finn
At the next table to me was Ceinwen Clarke who was displaying her amazing fairy creations and they were truly eyecatching and the amount of effort and time Ceinwen had put into not only the dolls but their individual outfits was wonderful.
There is something really satisfying about watching all these people who have come with such expectation and empty hands leaving with their new babies either wrapped in blankets or in presentation boxes and baskets with huge happy smiles at the end of the day. As an artist knowing you have given that pleasure... well to be honest, there's not a feeling like it.
I did take a lot of photographs of the stands, the visitors and the dolls on display and below there is a slideshow selection for you all to enjoy.